Banana Bud Mock meatballs is easy to prepare with just very few and simple ingredients to make the mock meat balls. The only tedious part of the procedure is cleaning the banana blossoms to remove the sap. The sap is a little bit bitter so this procedure should not be eliminated when cooking fresh banana blossoms.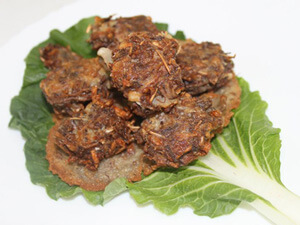 How to Make Bola-Bolang Puso ng Saging
Ingredients
1

pc fresh banana blossom or bud

1

tsp.

Ginisa flavor mix

1

tsp

salt

4

cloves

garlic

minced

1

onion

minced

2

Tbsp.

all-purpose flour

2

pcs egg

1/2

cup

rock salt

for cleaning the banana blossoms
Instructions
How to cook Bola-bolang Puso ng Saging:
Chop the banana blossom finely and mix with rock salt.

Mix it thoroughly until the banana blossoms are well coated with salt and set aside for 10 minutes.

Then squeeze the banana blossoms with your hands or you can use a piece of cloth to wrap the banana blossoms then squeeze it until the sap has been removed.

Then wash it with warm water and squeeze it again to remove the water.

In a bowl beat the eggs and mix the banana blossoms, minced onion and garlic, flour, salt and Ginisa flavor mix.

Put flour in a bowl and form the banana blossom mixture into balls resembling meatballs and roll it in the flour to coat them.

The mock meat balls should not be too large, make it small to medium size to cook the balls evenly inside and out.

Do the same on the rest of the mixture to form the mock meat balls.

Prepare a deep frying pan with cooking oil and heat it to medium heat.

Deep fry the mock meat balls until golden brown.

Strain the excess oil and serve hot with banana ketchup.