Puto seko is a beloved Filipino cookie delicacy made from cornstarch and mochiko flour. It's an easy recipe that yields a tasty, nutritious, and budget-friendly treat that melts in your mouth. Despite its name, it's not soft and fluffy like puto, which is similar to muffins. Instead, puto seko is a sweet cookie or biscuit that's perfect for snack time or as a dessert.
To make puto seko, you'll need the following ingredients: cornstarch, mochiko flour, sugar, vegetable oil or margarine and egg. You can also add a pinch of salt for flavor.
To start, preheat your oven to 300°F. In a mixing bowl, combine all of the ingredients and mix them thoroughly until you achieve a smooth and consistent dough.
Next, prepare your cookie molds by lightly greasing them with oil or butter. Scoop the dough into the molds, filling them up to about 3/4 full. You can also shape the dough into small balls if you don't have cookie molds.
Bake the puto seko in the preheated oven for 15 to 20 minutes, or until they turn golden brown. Remove them from the oven and let them cool before removing them from the molds.
Once your puto seko has cooled, you can store them in an airtight container at room temperature for up to a week. They're perfect as a snack or a sweet treat to pair with coffee or tea.
Puto seko is a delightful Filipino cookie that's easy to make and even easier to enjoy. With its simple ingredients and straightforward instructions, you can whip up a batch in no time. Whether you're sharing them with friends or enjoying them on your own, puto seko is a delicious treat that everyone will love.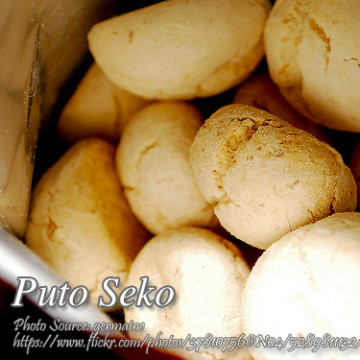 How to Make Puto Seko
A popular Filipino cookie delicacy made from cornstarch and mochiko flour and this recipe is a very easy way to make puto seko.
Ingredients
300

grams

cornstarch

1

cup

flour

or mochiko flour

1/2

cup

butter or margarine

4

pcs

eggs

1

tsp.

salt

1

tsp.

baking powder

1

cup

white sugar
Instructions
How to make puto seko:
Mix all ingredients together. Transfer to cookie molds and bake at 300 °F oven until golden brown. About 15 to 20 minutes.