A low cost shake made from seeded and cubed watermelon, sugar syrup and crushed ice. There are varieties of watermelon you can use and I think there is no problem with it. Only if you wish to have your watermelon shake color red, then choose a red flesh water melon. Its usually hard to identify the color of its flesh whether yellow or red if unopened. There are also other color varieties like pink or white but the two are the most common. They say that yellow flesh watermelon is sweeter and a little bit hint of honey taste.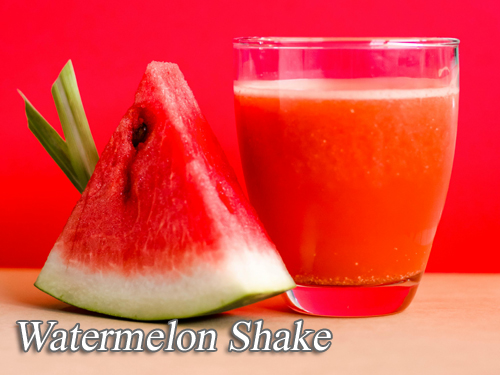 How to Make Watermelon Shake
Ingredients
1/2

cup

sugar syrup

see bottom

3

cups

seeded and cubed watermelon

3

cups

coarsely crushed ice
Instructions
How to make watermelon shake:
Blend all ingredients until mixture is slushy.

Pour into six 8-ounce glasses.

Makes 6 Servings.
To make sugar syrup:
In a small saucepan, combine 3 cups sugar and 1 1/2 cups water.

Cover and let boil over medium heat until sugar is dissolved.

Cool and store in refrigerator.