A delicious salad made from steamed kangkong, diced ripe mangoes, tomatoes and parsley. If you are thinking of any recipe that you can make with kangkong, I'm sure this one is great way to try specially if you want something a little creative by turning a bunch of kangkong into a salad.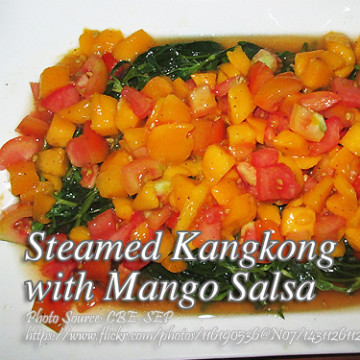 How to Make Steamed Kangkong with Mango Salsa
Ingredients
3/4

cup

diced ripe mangoes

1

tablespoon

sugar

1 1/2

cups

tomatoes

seeded and diced

1 1/4

teaspoon

salt

1/4

cup

chopped parsley

1/8

teaspoon

pepper

1/4

cup

vinegar

1

bunch kangkong

sliced and steamed
Instructions
How to make Steamed Kangkong With Mango Salsa:
In a medium bowl, gently mix mangoes, tomatoes and parsley.

In a separate bowl, combine vinegar, sugar, salt, and pepper.

Pour over mango salsa, stirring lightly. Arrange steamed kangkong on a platter.

Spoon mango salsa over kangkong and serve.

You can also chill the kangkong and salsa for 10 minutes to make a cold salad.
Note:
Serve the salsa within an hour of preparation otherwise the mangoes will absorb the vinegar and lose their sweetness.