This is salad recipe composed of shredded young coconut, cubed mangoes, gelatin, milk, mayonnaise and sugar. This salad is great for dessert or snack and can be made in any occasions. When buying mangoes, choose a variety called carabao mangoes because they are fleshy, sweet and tasty.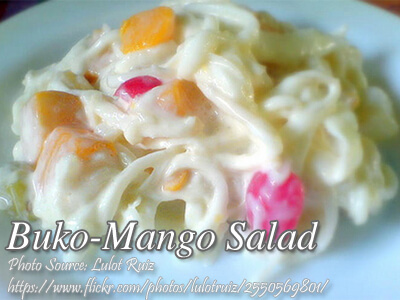 How to Make Buko-Mango Salad
Ingredients
4

ripe mangoes

1

cup

mayonnaise

1

cup

chilled evaporated milk

1

stick white gulaman

gelatin

1 1/2

cup

water

1

cup

sugar

1

cup

shredded young coconut

salt to taste
Instructions
How to make buko-mango salad:
Cut the mango meat into cubes or scoop with potato baller. Shred the buko.

Mix and season with salt and sugar according to taste.

Beat the cream with 1/2 teaspoon salt and 1/4 cup sugar .

Chill in the refrigerator. Meanwhile, cook the gulaman in 1 1/2 cup water and 1/2 cup sugar.

When the gulaman is ready, mix the mayonnaise and the cream in the mango mixture, then pour the gulaman.

Mix well. Pour the mixture into a mold.

When set, put on a platter and garnish with red cherries and parsley.

Serve cold. Good for 6 persons.