Binagol or sometimes called binangol is a visayan delicacy made from grated gabi or taro tubers and condensed milk then cooked in coconut shells and wrapped in banana leaves. I'm not sure if only Leyte, Tacloban produce this delicacy because when I was still young my mother buy this from her hometown whenever she went to her province. But today you can see this in malls. Making this stuff is tedious but if you wish to know the recipe and planning to cook and sell it, here it is: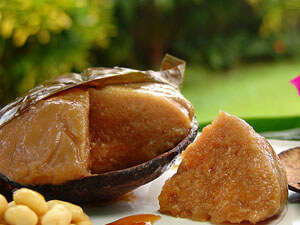 How to Make Binagol (or Binangol)
Ingredients
3/4

cups

shredded raw gabi

Taro root

1

cup

rich coconut milk

2 medium coconuts

3/4

cup

brown sugar

4

clean medium coconut shells

4 1/2" diameter and 2" high

1/2

can

1 oz full cream condensed milk

4

egg yolks

Wilted banana leaves

String for tying
Instructions
How to make binagol:
Mix first three ingredients and cook over moderate heat for 6 minutes, constantly stirring.

Lower heat and continue cooking for 10 minutes.

Add condensed milk and cook over low heat 20 minutes longer, stirring constantly.

Fill each coconut shell with mixture. Make a well in center and drop raw egg yolk.

Cover top with tuber mixture and spread until smooth, very close to brim or shell.

Cover whole shell with two layers banana leaves and tie securely with strings.

Steam half an hour 12 servings.