A unique shake made from ampalaya or bitter melon with lime or dayap juice. This healthy shake is not only refreshing but it also has lots of health benefits specially for diabetics but even a healthy individual can drink this.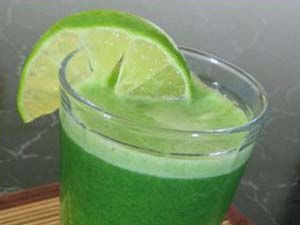 How to Make Ampalaya (Bitter Melon) Cooler Shake
Ingredients
2

pcs Ampalaya

bitter melon

1 1/2

cups

water

2

pcs Dayap or lime

squeezed juice

3

cups

crushed ice

Sugar syrup to taste
Instructions
How to make Ampalaya (Bitter Melon) Cooler Shake:
Wash and de-seed the ampalaya. Cut into thin slices.

Place in a blender with water, blend until smooth.

Strain and squeeze out the pulp. (You can use this in the other recipe). Save the liquid.

Put the ampalaya juice back into the blender with the dayap juice, sugar syrup and ice.

Blend until well incorporated.

If the drink settles, just shake or stir before serving.

Serves 4-6 persons.
To make sugar syrup:
In a small saucepan, combine 3 cups sugar and 1 1/2 cups water.

Cover and let boil over medium heat until sugar is dissolved.

Cool and store in refrigerator.