This pandan jade recipe is actually a gelatin or jelly dessert made from agar-agar, coconut milk, sugar and pandan leaves for flavoring. This recipe is using dried agar-agar bars that you need to soak in water and boil for several minutes until all the dried agar-agar had been dissolved. This is a little tedious because you it takes a long time to dissolve all the agar-agar and you need to strain it to remove solid particles still left on the liquid. But there is a simple way of cooking this dessert by using jelly powder or gelatine powder.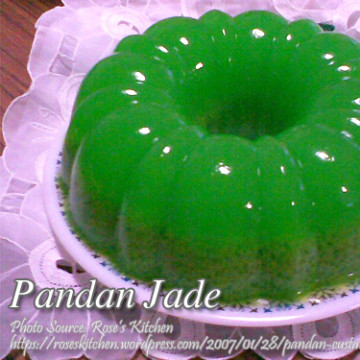 How to make Pandan Jade
Ingredients
2

bars green colored gulaman

Agar Agar

1 1/2

cups

water

5

pandan leaves

2

cups

thick coconut milk

1 1/2

cups

sugar
Instructions
How to make Pandan Jade:
In a bowl soak gulaman bars in the water for 30 minutes.

In a casserole put softened gulaman with water, add pandas leaves. Boil until gulaman is dissolved.

Discard the pandas leaves.

Reduce heat and add the coconut milk and sugar. Stir till sugar is dissolved and mixture begins to simmer.

Remove from fire and strain into a mold. When cool, refrigerate and serve cold.