Freshly baked tarts with fresh mangoes, English cream and meringue butter cream. Perfect for desserts and for any kinds of occasions.  When choosing mangoes, use ripe ones and as much as possible the carabao mango variety because they are more fleshy, soft and sweeter than other varieties of mangoes.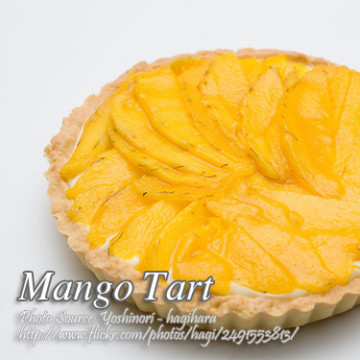 How to Make Mango Tarts
Ingredients
1 1/2

cup

all purpose-flour

1

tsp.

salt

2

Tbsp.

water

1/4

cup

butter

1/4

cup

shortening

1

whole egg

2

tbsp.

sugar

mango slices
English Cream
1/2

cup

white sugar

3

pcs eggs yolks

1

tbsp.

cornstarch

1

cup

evaporated milk

scalded
Meringue Butter Cream
1/4

cup

egg whites

1/2

cup

white sugar

1/3

cup

butter

1

tsp.

rum

optional
Instructions
How to make mango tarts:
Sift together flour and salt. Make a well at the center and add the rest of the ingredients.

Cut-in with 2 forks. Form flour mixture into a ball. Place in the refrigerator to cool.

Roll out thinly and cover the top sides of inverted tart pans.

Bake in a hot oven until golden brown. Cool.

Fill each tart shell with English cream (see recipe below) mixed with slices of ripe mangoes.

Top with meringue butter cream (see recipe below).
How to make the English Cream:
Mix the eggs, sugar and cornstarch.

Pour over scalded milk and cook in a double boiler until thick. Cool.
How to make the Butter Cream
Beat egg whites until still but not dry. Add sugar little by little.

Beat until smooth. Add butter and beat again. Lastly, add rum.