This is a flexible pasta or vegetable dish which can be also used as topping for fish fillets. This pasta is also a healthy alternative to tomato and meat pasta. So if you are looking for a healthy pasta recipe, then I think this is the one for you.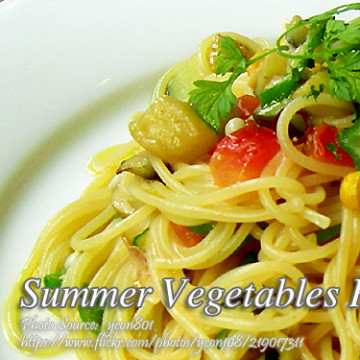 How to Cook Summer Vegetables Pasta
Ingredients
250

grams

fettuccine

twists, spaghetti or elbow pasta

1/4

kilo eggplant

peeled and cut into 1-inch cubes

1

small piece zucchini

peeled and sliced

2

red bell peppers

roasted, peeled, seeded and sliced into 1/2 inch squares

1/2

cup

olive oil

1/2

cup

minced onions

1

tablespoon

minced garlic

3

anchovy fillets

chopped fine

2

tablespoons

capers

1

teaspoon

salt

1/4

teaspoon

ground black pepper

1/4

teaspoon

MSG
Instructions
How to cook Summer Vegetables Pasta:
In a thick, medium saucepan over medium low fire, heat 1/4 cup of the olive oil.

Saute onions until wilted.

Add eggplant and stir for 2 minutes, then add zucchini and stir for another 2 minutes.

Reduce fire to low and simmer, stirring frequently for 5 minutes, then add red bell peppers and simmer for another 5 minutes. Remove from heat and set aside.

In a thick, medium saucepan over low fire, heat the rest of the olive oil and saute garlic until light brown.

Saute anchovies for 2 minutes, then add capers and toss for half a minute.

Add reserved vegetables and simmer for 1 minute.

Season with salt, pepper and MSG, and simmer for another minute.

Adjust seasoning to taste then remove from heat.

Cook pasta according to package instructions and drain.

Immediately mix with vegetables and serve.

Serves 6 to 8 as a pasta or vegetable dish; serves 10-12 as a topping for fish fillet.

To reheat left overs, add 1 tablespoon oil over low fire.