This native delicacy is the famous suman wrap in buli leaves. This suman is not usually found in wet markets or sidewalks many years ago and the only place I know where it is abundant is in Antipolo. But now a days there are lots of vendor selling this kakanin. Since there are no sugar or any sweeteners added to this suman, you have to dip it on sugar or coco jam to enjoy it. And it is best serve with a cup of hot chocolate drink.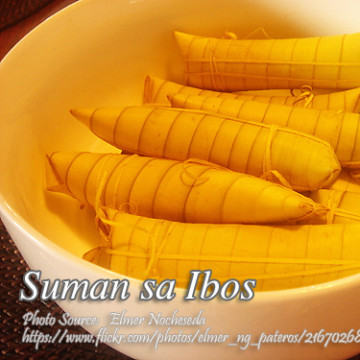 Suman sa Ibos
Ingredients
4

cups

malagkit rice

glutinous rice

1 1/2

Tbsp

salt

3

cups

thick coconut milk

Buli leaves

for wrapping the suman
Instructions
How to cook Suman sa ibos:
Wash rice and soak with water until it swells. Mix with 2 cups coconut milk and salt.

Wrap mixture in prepared buli leaves (do not fill them up completely).

Place suman in large container.

Fill with water and remaining 1 cup coconut milk until suman is completely immersed.

Let boil until suman is cooked. Served with sugar and ripe mangoes.