Palitaw is a traditional Filipino delicacy that is made with simple ingredients and can be easily prepared at home. This chewy, sweet treat is made from glutinous rice, toasted sesame seeds, sugar, and grated coconut, and is often served at special occasions and family gatherings. In this article, we will guide you through the steps to make your own palitaw at home.
Step 1: Soak the Malagkit Flour
The first step in making palitaw is to soak malagkit flour in water for at least one hour. This allows the flour to absorb the water and become more pliable, making it easier to shape into patties. After one hour, remove the flour from the water and form small balls, flattening them with your fingers to form tongues.
Step 2: Form and Cook the Patties
Once you have formed the palitaw patties, it's time to cook them. Bring a pot of water to a boil and drop the patties into the water. Wait for them to float to the top, then remove them with a slotted spoon and transfer them to a bowl of cold water. This helps to stop the cooking process and prevent the patties from sticking together.
Step 3: Coat with Coconut Mixture
After draining the palitaw, it's time to add the delicious coconut mixture that gives this Filipino delicacy its unique flavor. Mix grated coconut, sugar, and linga (toasted sesame seeds) together in a bowl, then roll each palitaw patty in the mixture until fully coated.
Step 4: Serving and Storing Palitaw
Palitaw is traditionally served cold and can be stored in an airtight container in the refrigerator for up to two days. To serve, arrange the palitaw patties on a plate and sprinkle with additional coconut mixture, if desired.
Variations and Tips for Making Palitaw
Palitaw is a versatile dish that can be customized to your liking. Some people like to add food coloring to the coconut mixture to give the palitaw a pop of color, while others like to add a teaspoon of vanilla extract to the mixture for added flavor. Additionally, you can experiment with different toppings such as crushed peanuts or caramel sauce.
When making palitaw, it's important to use glutinous rice flour, which can be found at most Asian grocery stores. Regular rice flour will not work for this recipe, as it does not have the same sticky texture that is necessary for forming the patties.
Enjoying Your Homemade Palitaw
Palitaw is a simple yet delicious treat that is perfect for any occasion. Whether you're hosting a family gathering or just looking for a sweet snack, this Filipino delicacy is sure to impress. By following the steps outlined in this article, you can easily make your own palitaw at home and enjoy the unique texture and flavor of this beloved Filipino dessert.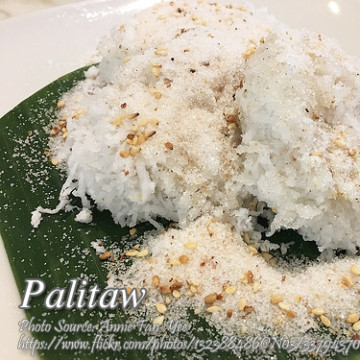 How to Make Palitaw
This is a very simple snack or dessert that you can make. It is made up of ground glutinous rice, toasted sesame seeds, sugar and grated coconuts.
Ingredients
2

cups

ground malagkit

glutinous rice -grind 3 times

1/4

cup

toasted linga

sesame seeds

1

cup

water

1

cup

sugar

1

cup

grated coconut
Instructions
How to make palitaw:
Soak malagkit flour with water for at least 1 hour.

Form into small balls and flatten with fingers to form tongues.

Drop in boiling water. When they float, skim and drop in cold water.

Drain and roll in mixed coconut, sugar and linga mixture. Serve cold.