Gateau san rival is a rich cake made with layers of baked egg whites filled and coated with butter mixture  and sprinkled with chopped cashew nuts. Although this cake sounds foreign, it is considered as one of the most favorite cake and dessert among Filipinos. There are stories I've read about the history of sans rival. During the peace time, some Filipinos who studied in France brought this here in the Philippines. But the name of this cake is not sans rival that time. I'm just not sure how it was called sans rival. The only thing I know is its name comes from the French phrase with the literal meaning without rival.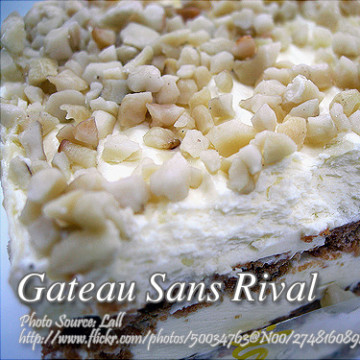 How to Make Gateau Sans Rival
Ingredients
12

egg whites

1 1/2 cups

4

cups

cashew nuts

finely chopped

2

cups

granulated sugar
Filling ingredients:
12

egg yolks

1

cup

water

2

cups

granulated sugar

1/2

kilo or 2 bars of butter
Instructions
How to make Gateau Sans Rival:
Separate egg yolks from egg whites. Beat egg whites until stiff and foamy.

Add finely chopped nuts; mix well. Line baking sheets with wax paper.

Pour egg white mixture onto 7 to 8 baking sheets.

Bake at 350 °F for from 25 to 30 minutes or until golden brown.

Remove wax paper lining at once, but with extra care that baked egg whites will not break.

Set aside temporarily. Beat egg yolks well until lemon-colored.

Make syrup out of two cups sugar and one cup water.

Boil until thick enough to form a soft ball when dropped in a saucer full of water.

Add syrup to well-beaten egg yolks, a little at a time; make sure that it blends well with mixture.

Set mixture aside to cool. Cream butter; add cooled egg yolk mixture.

Spread cream mixture on each layer of the baked egg whites.

Arrange the 7 to 8 layers of baked egg whites on top of each other.

Cover top and sides of trimmed "SANS RIVAL" with the remainder of the cream mixture.

Garnish with chopped nuts. Chill and serve cold. Yield: 16 to 20 servings.