This cheesecake recipe is a variation of other known cheesecake like the blueberry cheesecake. This cheesecake is easy to prepare, an exotic  cheesecake topped with durian jam with graham crackers crust. Since durian in locally available, there is also local producer of durian jam which is used in this recipe. Ingredients are also simple and is readily available. And the best part is, there is no need to bake this dessert.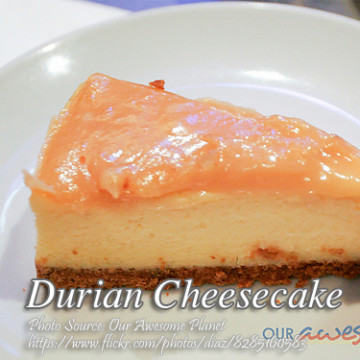 How to Make Durian Cheesecake
Ingredients
Ingredients for the crust:
1

cup

+ 2 tablespoons crushed graham crackers

1/2

cup

butter

melted
Ingredients for the cheesecake:
1 1/2

tablespoons

unflavored gelatin

1/3

cup

water

1 1/2

cups

cream cheese

1 1/2

cups

all-purpose cream

1/2

cup

durian jam
Ingredients for the topping:
Instructions
How to make the crust:
Line a 9- inch removable bottom pan with a sheet of aluminum foil. Set aside.

In a medium bowl, combine the crushed graham crackers and melted butter. Transfer to the prepared baking  pan. Using the back of a spoon, press the mixture against the bottom of the pan, forming a solid bottom layer. Set aside.
How to make the cheesecake:
In a thick saucepan, combine gelatin and water. Mix well and set aside to allow the gelatin to blend. Place over low heat and stir continuously until the mixture becomes clear. Do not allow to boil. Set aside.

In a large mixing bowl using an electric mixer, beat the cream cheese until light. Add the all-purpose cream and continue beating until blended. Pour in the gelatin solution and beat until well incorporated. Pour in the durian jam and continue to beat until well dispersed.

Pour the cheesecake mixture into the prepared baking pan previously lined with the prepared crust. Chill or freeze until firm.

Unmold the cheesecake and slice into wedges. Transfer to a serving platter and top with more durian jam.