This recipe is an easy to prepare exotic boat tarts filled with durian jam. Eaten fresh, the durian fruit is quite challenging to some but delicious to others. The odor seems unbearable but if you have turned it into a jam and combine it with the tart boat pastries, I'm sure you are going to love it.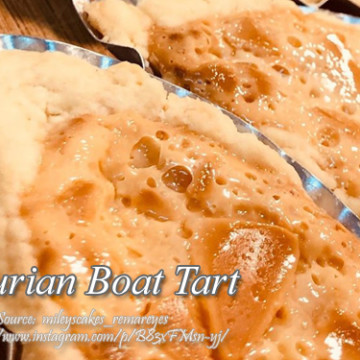 Durian Boat Tart
This recipe is an easy to prepare exotic boat tarts filled with durian jam.
Ingredients
For the crust:
1

cup

butter

3/4

cup

cream cheese

3

cups

sifted all-purpose flour
For the durian filling:
300

ml

can condensed milk

2

egg yolks

1/2

cup

durian jam

1/4

cup

sifted all-purpose flour

2

tablespoons

butter
Instructions
Make the crust:
In an electric mixer fitted. with a flat beater, cream butter and cream cheese together until blended. Pour in the flour and beat at low speed until a solid dough is formed, Divide into 48 equal portions or weigh 15 grams per portion.

Press the crust against the bottom and sides of a boat tart molder. Prick the crust bottoms 3 times with a fork. Arrange molders in a jellyroll pan and bake for 15-20 minutes or until the surface feels fairly dry.

Allow crusts to cool briefly then unmold each piece carefully. Arrange the partially baked crusts in a jellyroll pan lined with a sheet of baking paper, Fill with the prepared filling (see instructions below).
To make the filling:
In a thick saucepan, combine condensed milk, yolks, durian jam, and floor. Place over low heat and cook until thick, mixing with a heat-resistant spatula from time to time, Remove from heat and add butter.
Make the tarts:
Divide the filling equally among the pre-baked tart shells. Bake at 350 deg Fahrenheit for 15 minutes or until set.

Allow to cool completely before wrapping individually in food grade cellophane. Makes about 48 durian tarts.