Quick bread is a bread made with a leavening agent such as baking powder that permits immediate cooking of the bread. Unlike other bread with yeast that needs to be set aside for hours so the dough will rise. It covers many kinds of cakes and bread and also a traditional western recipe. But the recipe I have here is mixed with local fruits and nuts like sugar palm fruit or commonly known locally as kaong. You can buy kaong already bottled and preserved with syrup in any large supermarkets. By the way, before chopping the kaong, you should drain it first and discard the syrup.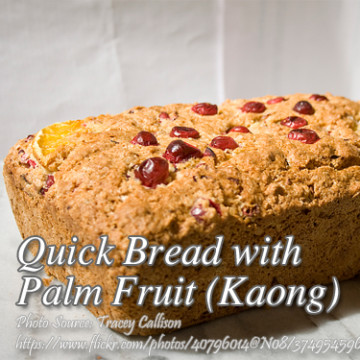 How to Make Quick Bread with Palm Fruit (Kaong)
Ingredients
2

cups

all-purpose flour

1

cup

milk

1

tsp

salt

1/2

cup

chopped red kaong

2/3

cup

sugar

1/2

cup

chopped green kaong

1

egg

beaten

1/4

cup

oil

1

Tbsp.

baking powder

1/2

cup

chopped nuts
Instructions
How to make Quick Bread
Stir together flour, baking powder. sugar and salt.

Combine eggs, milk, oil, nuts, anise and chopped kaong.

Pour all at once over flour mixture and stir only until flour is moistened.

Pour into greased 4 1/2 by 8 1/2-inch loaf pan.

Bake at 375 °F for 1 hour and 15 minutes or until done.

Cool 10 minutes before removing from pan; cool completely before slicing.

Yield: 1 loaf.
Note:
Stir only until flour is moistened. Over stirring batter results in poor product.