Pianono is a simple cake roll sold on ordinary bakeshops but this choco pianono or choco coco roll is so tasty and extra ordinary because of the addition of coconut flakes and almonds aside from the cocoa that makes this pianono a choco pianono.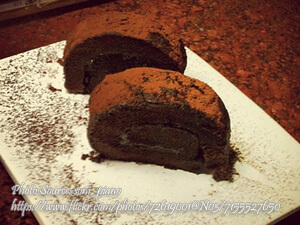 How to Make Choco Pianono (Coco-Choco Roll)
Ingredients
1/4

cup

butter

1

tsp.

baking soda

1/3

cup

ground unsalted almonds

1

cup

sugar

1

cup

coconut flakes

3

pcs eggs

separated

12

oz.

can condensed milk

1/3

cup

cold water

1

cup

sifted flour

1

tsp.

vanilla extract

1/3

cup

cocoa

confectioner's sugar

1/4

tsp

salt
Instructions
How to make Pianono (Coco-Choco Roll)
Line a 10x15-inch pan with foil. Preheat oven to 375°F. Melt butter and pour into foiled pan.

Mix nuts and coconut flakes and sprinkle evenly in pan. Drizzle with condensed milk.

Sift together flour, cocoa, salt, baking soda and sugar. Beat egg yolks in bowl until fluffy.

Blend sifted dry ingredients, water and vanilla and beat for another minute.

Beat egg whites separately until stiff and fold into mixture. Pour mixture into pan. Bake 20 minutes or until done.

Sprinkle with confectioner's sugar. Transfer to a cookie sheet, roll and wrap with towel to set.

Transfer to serving platter and sprinkle with more confectioner's sugar. Slice to serve.