These mock drumsticks are made from mashed potatoes, bread crumbs, cooked rice, eggs and onions then deep fried. A very good substitute to chicken drumsticks if you are a vegetarian or just abstaining from meat for a few days.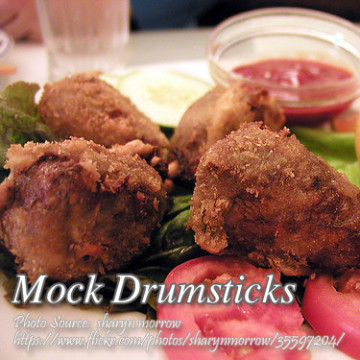 Mock Drumsticks with Mashed Potato
Ingredients
1/2

cup

mashed potato

1/2

cup

chopped peanuts

1/4

cup

bread crumbs

1

cup

cooked rice

1

hard-boiled egg

finely chopped

2

tablespoons

soy sauce

3/4

cup

chopped onion

1

egg beaten

Salt to taste

Oil for frying
Instructions
How to cook Mock Drumsticks with Mashed Potato:

Brown the onion in oil. Mix all the ingredients thoroughly. Shape the mixture into the form of chicken legs, using a stick of macaroni as bone for each leg.

Roll the drumstick in bread crumbs and then in egg batter and deep fry. Yield: about 6 drumsticks.