If you are looking for a vegetarian fried lumpia, then I think this recipe is for you. Actually most of the fried lumpia composed mostly of vegetables with some ground pork, chicken or shrimp. You can also make them with without adding any meat but it won't taste as good as with having some meat in the ingredients. In this recipe the meat is replaced by vegemeat or if it is hard to find, tofu is the next ideal substitute. This lumpia also have kangkong leaves layered with the lumpia wrapper so that the lumpia will appear greenish on the outside that is why it is called emerald fried lumpia.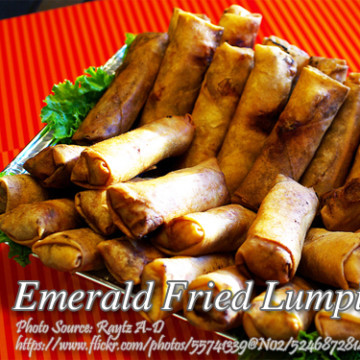 How to Cook Emerald Fried Lumpia
Ingredients
500

grams

ground vegemeat

for non-vegetarian, use ground pork

1

medium onion

chopped

10

grams

kinchay

chopped

1

large carrot

chopped

1 1/2

tsp.

salt

50

grams

mung bean sprouts

chopped

1 1/2

tsp.

ground pepper

50

grams

kangkong leaves

chopped

1

Tbsp.

cornstarch

1

pc egg

well beaten

30

grams

raisins

2

segments garlic

crushed

24

pcs lumpia wrapper

kangkong leaves from 1 bunch kangkong

1

cup

water

1/4

cup

catsup

2

Tbsp.

cornstarch

2 1/2

Tbsp.

vinegar

2 1/2

Tbsp.

sugar

1 1/2

tsp.

soy sauce
Instructions
How to cook Emerald Fried Lumpia:
Combine all ingredients, set aside lumpia wrapper and whole kangkong leaves. Mix well.

Divide the mixture into 24 parts or weight 36 grams of the mixture for each piece of lumpia.

Place 3 beds of kangkong leaves on the surface of the lumpia wrapper.

Wrap the mixture and use water for sealing the lumpia. Deep fry until golden brown.

Place in a plate underlined with napkin to absorb excess oil.

Serve crispy with sweet and sour dipping sauce.
How to make wweet and sour dipping sauce:
In a saucepan, mix water with catsup, cornstarch, vinegar, sugar and soy sauce. Cook until it becomes translucent and slightly thick.