Searching for a pickled vegetable recipe? I think this pickled radish and carrot recipe is a good choice. Since this pickle is spicy because of the chilies, it can be a great appetizer or a side dish to your favorite grilled foods.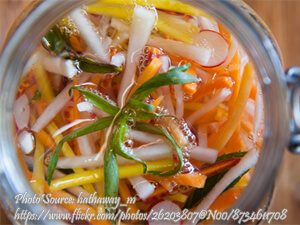 How to Make Pickled Veggies with Chilies
Ingredients
1/2

white radish

about 225 grams

2

tsp.

salt

1/2

carrot

500

ml

2 cups Vinegar

3

red chilies

75

g

2 1/2 oz. fine sugar
Instructions
How to make Pickled Veggies with Chilies
Peel radish and carrots and cut into strips (little finger size).

Slice chilies into large diagonal pieces. Combine in a bowl and sprinkle with salt. Set aside for 30 minutes.

Squeeze out and discard as much moisture as possible out of the vegetables, then rinse briefly in cold water and squeeze dry again.

Pack into a large, clean and screw top jar. Bring vinegar and sugar to boil then let mixture cool for 5 minutes.

Pour over radish, carrots and chilies. Let cool completely, then steep overnight, covered, before serving.

Pickle keeps for couple of week in a cool place.