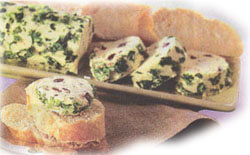 Ingredients:
1 cup cottage cheese, drained
3/4 cup cream cheese, softened
1/4 cup butter, softened
1/2 cup grated quick-melt cheese
3 tbsp Parmesan cheese
3 tbsp  finely chopped dried fruit
(raisins, cranberries or apricot)
1/4 cup chopped walnuts
2 tbsps. chopped parsley
extra chopped parsley
extra Parmesan cheese
How to make Fruit and Nut Cheeselog

Using a mixer, blend all cheeses and butter on low speed until smooth. Fold in chopped fruits, nuts and parsley. Using an 8-inch long sheet of Glad Cook 'N bake, place approximately 1/2 cup of cheese mixture in the middle of the sheet.
Fold paper and using your palm, lightly press the mixture towards you to form a log. Roll the paper until desired thickness is achieved. Secure both ends by twisting simultaneously like wrapping a candy. Chill until firm.
Unwrap the logs, roll in chopped parsley or Parmesan cheese if desired. Serve with toasted bread or crackers as a spread.