This salad is a tropical salad made from boiled unripe jackfruit and tossed with tomatoes and onion and coconut milk as dressing. Langka is delicious cooked as preserves for halo-halo or eaten au naturel soaked in a bed of ice. The unripe langka's whitish pulp is usually cooked as a vegetable stewed in coconut milk with shrimps and pork. The large langka seeds are boiled till tender, peeled and eaten with sugar.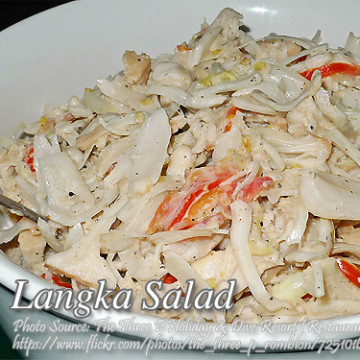 How to Make Langka Salad
Ingredients
1

unripe langka

about 5 cups, peeled and cut

1 1/2 to 2

cups

thick coconut milk

1

red bell pepper

cut into strips

1 1/2

tablespoons

onion

chopped

2

medium tomatoes

chopped

1 1/2

tablespoons

vinegar

1

teaspoon

salt
Instructions
How to make lanka salad
Boil langka in water and salt. When tender remove from fire and drain.

Put langka in a serving bowl, combine with the rest of the ingredients.

Refrigerate and serve cold.