A simple gourmet salad recipe that you can make in any occasion because of the simplicity of preparation and availability of ingredients. Kesong puti, made from carabao's milk is very similar to feta cheese made from goat's milk and its available in large supermarkets. If you have been in Los Banos Laguna, you can buy carabao cheese inside UP Los Banos in the Institute of Animal Science  (formerly Animal Husbandry) division.
There are two places inside where you can buy it, in the Philippine Carabao Center and the Dairy Training and Research Institute (DTRI). I tried to purchase months ago and I never regret it because it is delicious, hygienic and fresh. It is not salty and smelly like other kesong puti sold by vendors. It is not expensive too and only cost 60 pesos per piece enough to make the recipe below. And with regards to the watercress, some people mistakenly call it kangkong but they are not the same thing.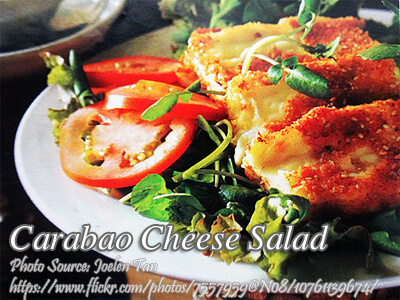 How to Make Carabao Cheese Salad
Ingredients
200

grams

carabao cheese

kesong puti

2

Tbsp.

sesame seeds

1/4

cup

bread crumbs

salt pepper to taste

1/2

cup

flour

1

egg beaten

cooking oil for frying

2

cups

lettuce

chopped

1

cup

watercress

alusiman, trimmed

1

medium cucumber

sliced

vinaigrette dressing

see recipe below
Vinaigrette dressing ingredients:
1/2

cup

corn oil

1

cup

vinegar

1/2

cup

patis or fish sauce

1

pieces

garlic

crushed

1

Tbsp.

mustard

1

Tbsp.

white sugar
Instructions
How to make Carabao Cheese Salad:
Cut kesong puti into six thin slices. Toast the sesame seeds and grind slightly.

Mix with bread crumbs, adding salt and pepper to taste.

Dredge each slice of cheese in flour. Dip in beaten egg.

Then coat in sesame seed and bread crumbs mixture.

Heat a small amount of oil in a non-stick frying pan.

Lay the coated cheese slices on the pan. Flip them over when one side is brown.

Toss the greens with the vinaigrette dressing and arrange in individual plates.

Top with slices of fried kesong puti.
How to make the vinaigrette dressing:
Put all the ingredients in a jar and cover with lid and shake.