Enkiwar is a kind of biko ( sticky rice cake)  kakanin made from glutinous rice. The origin is I think is from Ilocos and it's an Ilokano version of biko. I was confused a bit because other call this kakanin "puto" but actually this is more of biko or glutinous rice cake. Because puto, although some variety are made from ground malagkit rice it is similar to a soft muffin. Most puto today are made from flour and milk. Preparation and cooking of this recipe is simple in small batches but it will require more effort if you are going to cook this enkiwar in large quantity. Anyway before lining the bilao with banana leaves, you have to heat it over a fire so leaves will become soft and easy to arrange in the bamboo tray or bilao.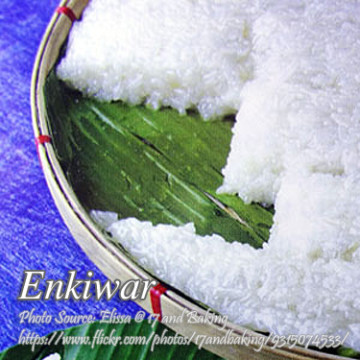 How to Make Enkiwar (Rice Cake with Coconut Milk)
Ingredients
1

and 1/2 cup malagkit

glutinous rice

water for soaking the rice

3

cups

coconut milk

1

teaspoon

salt

1/4

kilo sugar

Bilao lined with banana leaves

Bilao - a round tray made from bamboo
Instructions
How to make Enkiwar:
In a bowl, soak malagkit in water for 30 minutes or until soft. Drain the water from the bowl.

In a pot, boil the coconut milk with salt until about a cup has been evaporated.

Put the malagkit in a pot of coconut milk turning often to avoid scorching until the rice has dried a bit and has softened.

Cook the softened rice in moderate heat and add the sugar, turning often until cooked.

Remove from fire and place in a bilao (bamboo tray) lined with banana leaves.

Serve either hot or cold.