Bibingkang galapong or baked coconut rice cake is a favorite delicacy among pinoys and usually baked in a banana leafed lined clay pot and the heat source is a piece of metal sheet with burning coals put on top of the claypot. There are food vendors selling this bibingkas and when Christmas is approaching, many sidewalk food vendors sell bibingkang galapong and puto bumbong. The recipe here is a simple version without the toppings like the sliced salted eggs and cheese. But it taste a little more special because it contains coconut milk. It's up to you to garnish it if you want.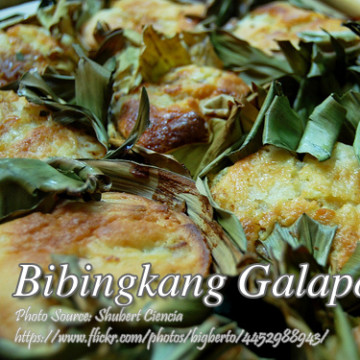 How to Make Bibingkang Galapong
Ingredients
4

eggs

well beaten

2

cups

coconut milk

1

cup

sugar

1/4

cup

melted margarine

2

cups

rice flour

2

tablespoons

baking powder

1/2

teaspoon

salt

1/4

cup

coconut cream

1/4

cup

sugar for topping
Instructions
How to make Bibingkang Galapong
Add sugar to beaten eggs. Combine salt and rice flour; add to egg mixture.

Add melted margarine, coconut milk, and baking powder.

Pour into banana leaf-lined mold. Bake in 375 °F oven.

When half-done, take it out from the oven and brush top with coconut cream and sugar and bake until golden crust is formed. Yield: 3 large bibingkas.