There are many ways of cooking bananas specially the saba or cardava variety. And making banana pastillas is one of them. The ingredients are very basic, in fact you only need 3 ingredients: bananas, margarine and sugar. The consistency of a saba banana is ideal of making pastillas and you don't need any binder like starch or flour to form them into pastillas.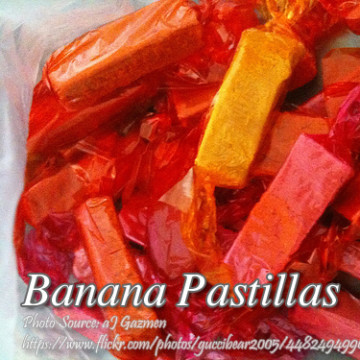 How to Cook Banana Pastillas
Ingredients
1

kilo ripe banana

saba

butter or margarine

300

grams

sugar
Instructions
How to cook Banana Pastillas:

Boil ripe saba banana; slice 3 cm thick.

Grind the sliced bananas until it is mashed.

Add 1 /2 cup water for every 2 cups banana and mix thoroughly.

Mix sugar and banana in pan. Let simmer under low fire.

Stirring should be done constantly until a clear mixture is obtained with the desired consistency.

Transfer to mixing board lined with waxed paper.

Flatten and even up mixture with rolling pin until 1 cm thick.

Add butter and sprinkle with sugar. Slice into 4 cm x 1 cm pieces.

Let cool then wrap in candy wrapper.