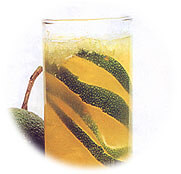 Ingredients:
1 cup freshly squeezed dalandan juice
2/3 cup sugar syrup ( see bottom )
4-5 cups coarsely crushed ice
(depending on tartness desired)
How to Make Dalandan Shake
Place all ingredients in a blender and blend until ice is finely crushed.
Pour into six 8- ounce glasses.
To make sugar syrup
In a small saucepan, combine 3 cups sugar and 1-1/2 cups water.
Cover and let boil over medium heat until sugar is dissolved.
Cool and store in refrigerator.