For those who love peanut butter will enjoy this ice cream. The main ingredient of this ice cream is crunchy peanut butter. It is also added with milk, egg yolks, whipping cream, sugar and melted chocolate for garnishing and if you want to make it fancier, some chopped peanuts. This is really simple to make and no need for a special kitchen skill.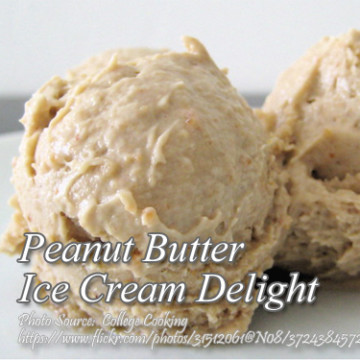 Peanut Butter Ice Cream Delight
Ingredients
3

egg yolks

1/2

cup

sugar or honey

1

cup

milk

1

cup

crunchy peanut butter

1

vanilla extract to taste

1 1/2

cup

whipping cream

melted chocolate
Instructions
How to make Peanut Butter Ice Cream Delight
Beat egg yolks and sugar or honey in a bowl until smooth and creamy. Set over a pan of boiling water in a stainless steel bowl or top of a double boiler, heat milk. Reduce heat until water simmers.

Stir in egg mixture. Beat thoroughly. Stir slowly until custard slightly thickens then remove from heat Add peanut butter and beat until cool Stir in vanilla.

Pour cream and custard into ice cream canister. Freeze in ice cream maker according to directions. Garnish with chopped nuts, or peanut halves, or melted chocolate. Makes 8 servings.