This delicious leche flan is easy to make and prepare because you only need very simple and few ingredients. This is I think the most popular dessert locally and also throughout the world because of its convenience to make. This is basically made up of milk and egg yolk and thick caramel syrup on top. There is a technique in preparing the caramel which is made from melted sugar. Some put a little water on the leche flan pan before putting it on the flame to melt the sugar to avoid burning which results to having a bitter taste.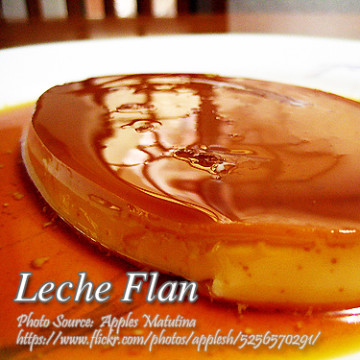 How to Make Leche Flan
Ingredients
Caramelize 1/4 cup sugar in a mold

1

cup

sugar

4

whole eggs

slightly beaten

1/2

teaspoon

lemon rind

1

tall can evaporated milk
Instructions
How to make Leche Flan
Combine all ingredients and beat very slightly.

Strain into mold with caramelized sugar.

Steam bath or bake until firm.

Cool before unmolding on a platter.

Yield: 4 to 6 servings.
How to Caramelized the sugar in a mold:
Pour the sugar on an aluminum mold and put over the flame.

Tilting the mold constantly until the melted sugar spreads evenly on the bottom of the pan.

When the melted sugar turns light brown, remove from flame.