Are you looking for a cookie recipe with vegetable? I mean a vegetarian cookie? I think this cookie recipe here is what you are looking for. This is a squash cookie recipe made from mashed squash combined with raisin and chopped nuts.
COOKING AND HEALTH TIPS: Eat Dark Green and Orange Veggies! – Beta-carotene, a form of Vitamin A found in dark green and orange vegetables, is a good antidote for lung cancer.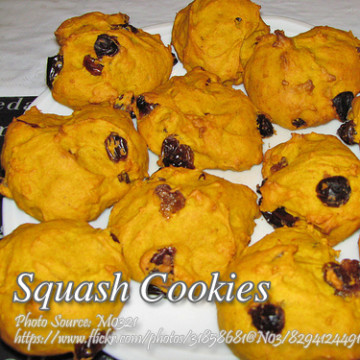 Squash Cookies
Ingredients
2 1/2

cups

enriched flour

1 1/2

cups

firmly packed light Brown sugar

4

teaspoons

baking powder

1 1/4

teaspoons

salt

1/4

teaspoon

ginger

powdered

1/2

teaspoon

orange extract

1/3

cup

oil for shortening

1

cup

chopped raisins

1

cup

chopped nuts

1

cup

mashed cooked kalabasa

squash

3

eggs
Instructions
How to make Kalabasa (Squash) Cookies

Sift together flour, baking powder, salt and spices.

In large mixing bowl, cream together shortening and sugar until light and fluffy.

Add eggs one at a time, beating well after each addition.

Blend in kalabasa and orange extract.

Add flour mixture all at once, stirring until well-blended Reserve 2 tablespoons nuts and 2 tablespoons raisins.

Stir remaining nuts and raisins into batter.

Drop by rounded tablespoonfuls onto greased baking sheets.

Sprinkle 1/3 of the cookies with reserved nuts, 1/3 with reserved raisins and the remaining plain.

Bake at 400 °F for from 12 to 15 minutes or until slightly brown.

Yield: 10 servings.