Flan de naranja is a Spanish egg custard blended with orange juice, eggs and milk. If yu want to zest up your ordinary leche flan or egg custard, why not try this recipe?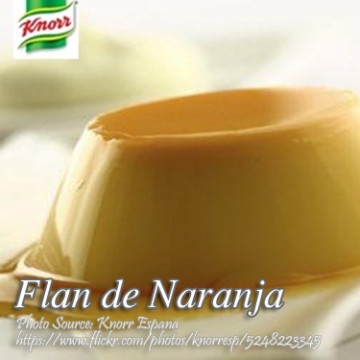 How to Make Flan de Naranja
Ingredients
1 1/4

cups

sugar

2

cups

whole milk

1/2

cup

orange juice

1

tsp.

orange zest

4

eggs

plus 2 egg yolks

1/2

cup

water
Instructions
How to make Flan de Naranja:
Put half the sugar and 1/2 cup water in a saucepan and bring to a boil; then simmer until the syrup thickens and turns golden brown.

Pour caramel into 4 ramekins (baking dish) so that the bottoms are evenly covered.

Preheat oven to 300°F or 150°C. Beat together eggs, egg yolks and remaining sugar.

Bring milk to a boil in a saucepan, then take it off the heat to cool a little.

Stir milk, orange juice and orange zest into the egg mixture and pour into the ramekins.

Place in a roasting pan, and fill pan with hot water so it comes halfway up the sides of the ramekins.

Bake custards for about 45 minutes. Check that water does not evaporate; top up as necessary.

Remove the custards from the roasting pan and leave to cool completely; put in the refrigerator.

Before serving, dip the base of each ramekin in hot water, and carefully loosen the sides of the custard with a sharp knife.  Turn out onto dessert plates and serve.