A delicious dessert made from grated cassava, glutinous rice, coconut milk, chopped peanuts, peanut butter and sugar. This is a fun and easy way of making a cassava delicacy without baking. Using strawberry jelly is optional but it is even more tastier if you add this with the peanut butter.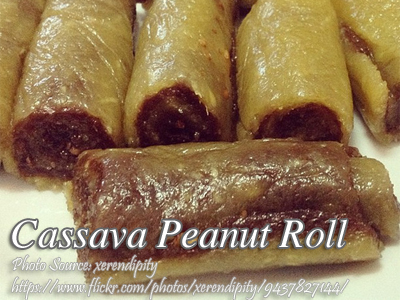 How to Make Cassava Peanut Roll
Ingredients
3/4

cup

coconut milk

3/4

cup

white sugar

1 1/4

cup

cassava

grated

2

tbsp.

butter

1/4

cup

malagkit

glutinous rice,toasted and ground

1/4

cup

peanut

coarsely chopped

1/4

cup

peanut butter

1

Tbsp.

strawberry jelly

optional
Instructions
Boil coconut milk and sugar in a saucepan. Add the grated cassava. Stir until thick.

Add the butter and continue stirring over moderate heat.

Remove from fire and add malagkit and chopped peanuts. Continue stirring until smooth.

Roll out mixture in a medium sized baking tray (8''x 5'') lined with waxed paper and sprinkled thinly with ground glutinous rice.

Spread the peanut butter and strawberry jelly. Roll and cut into 1 - 1 & 1/2 inch thick slices.