A great way to transform ordinary sweet chocolate to something like a brandied chocolate truffles. Chocolate truffles are a kind of chocolate confectionery that is formed into small chocolate balls made from dark chocolate and cream then coated with semi sweet chocolate. Perfect for this Holiday season served in parties or family get together.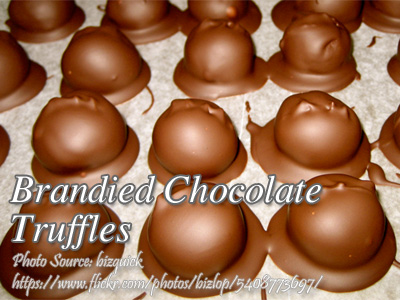 Brandied Chocolate Truffles
Ingredients
340

grams

sweet chocolate

broken into small pieces

1/4

cup

unsalted butter

cut into 4 pieces

3/4

cup

whipping cream

scalded

1

& 1/2 tablespoons brandy or cognac

Confectioner's sugar

170 - 225

grams

semi-sweet chocolate

broken into small pieces
Instructions
In a medium saucepan over low fire, heat sweet chocolate with butter until melted. Slowly strain hot cream into chocolate mixture, 1/4 cup at a time, beating with mixer at low speed or whisking by hand until blended.

Drizzle brandy into chocolate mixture, stirring until smooth. Cover and refrigerate until firm, about 2 hours (or overnight, if desired). With spoon or melon baller, drop 1 inch mounds od chilled chocolate mixture onto baking sheet lined with wax paper.

Refrigerate until firm, about 30 minutes. Rinse hands with very cold water then dry. Rub palms with confectioners sugar. Working quickly, shape each chocolate mound into a 1 inch ball. Freeze until firm about 30 minutes.

Melt semisweet chocolate. Line a second baking sheet with wax paper. Remove 10 balls from freezer. Working quickly, hold one ball at a time and dip entirely into warm chocolate. Shake off excess chocolate, place on wax paper. Repeat until all balls have been dipped.

With fork, spatula of kitchen knife, drizzle any remaining chocolate in a thin stream over balls(re-heat chocolate if necessary). Refrigerate for 30 minutes. Transfer to paper candy cups and store airtight in refrigerator. (Keeps up to two weeks in refrigerator)

Makes about 2 & 1/2 dozen truffles.