Bitsu-bitsu or cascaron is made from mochiko flour, a kind of sweet rice flour and should not be confused with the other bread recipe called bitso-bitso or bicho-bicho. Bitso-Bitso does not use mochiko flour, instead it uses bread flour or all-purpose flour.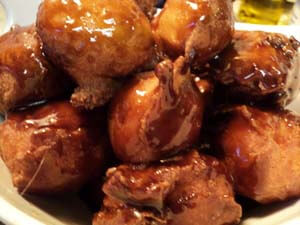 How to Make Bitsu-Bitsu (Cascaron)
Ingredients
1

coconut

grated

1/4

cup

cold water

1

pack mochiko flour

1/3

box dark brown sugar

1 1/2

cups

hot water; pour into bowl of coconut oil for frying
Instructions
How to make Bitsu-Bitsu:
Squeeze grated coconut in water then strain coconut water in clean dish towel over another bowl.

Squeeze until all liquid has been extracted. (Instead of fresh coconut, you may use 1/2 can grated coconut and 1 1/2 cups water.)

Place canned coconut in flour and add water until dough is soft but not too sticky.

Do the same with fresh coconut.

Shape dough in balls 1-inch diameter and fry in deep fat until golden brown.

Drain dough balls on paper towel. Then put in large mixing bowl.

Boil water and brown sugar in a small saucepan until it reaches soft boil stage.

Place a drop of syrup in bowl of cold water. If it retains it shape and is soft, it is ready.

Pour over dough balls. Mix well so that all are coated with syrup.

Remove from bowl and cool on a platter.