Angel food cake is a kind of sponge cake that is very similar to chiffon cake. It is called angel food cake because of it airy lightness and sometimes called food of the angels.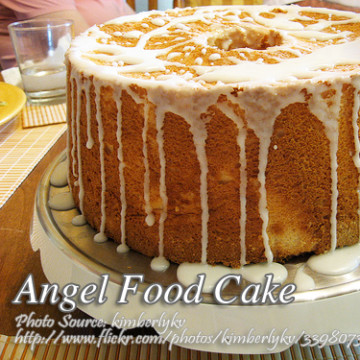 How to Make Angel Food Cake
Ingredients
10

egg whites

1 1/4 cups

1/4

tsp.

salt

1

tsp.

cream of tartar

1

tsp.

vanilla

1

cup

sugar

1

cup

sifted cake flour
Instructions
How to make Angel Food Cake:
In a large mixing bowl sprinkle the salt and cream of tartar over the egg whites.

Beat until soft tilted peaks form when beater is slowly withdrawn. Beat in vanilla.

Fold in the sugar, 2 Tbsps. at a time. Sift in the flour in 4 additions, folding it in.

Turn into ungreased 9-inch angel food cake pan or tube pan.

Bake on a low rack of a preheated 350 ° F oven until cake tester, when inserted in the center, comes out clean about 35 minutes invert pan and let cake hang until cool.

With a small metal spatula loosen cake edges and around tube, ease cake from pan.