A delicious sweet potato jelly roll made from sweet potato flour, ,eggs, vanilla and jelly. A very simple cake made from very simple and few ingredients. And with regard to sweet potato flour, don't confuse this with sweet potato starch as some packaging label it with sweet potato powder. The sweet potato powder is actually sweet potato starch and not flour. The flour is usually dull white in color and sometimes colored beige.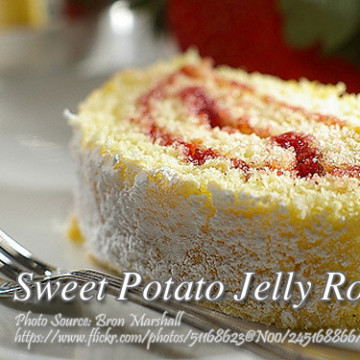 How to Make Sweet Potato Jelly Roll
Ingredients
4

eggs

separated

1/2

cup

sugar

1

cup

sweet potato flour

1/2

teaspoon

vanilla

1

cup

jelly

e.g. strawberry jelly, guava jelly
Instructions
How to make Sweet Potato Jelly Roll
Beat egg yolks until lemon yellow.

Add the flour and 1/2 of the sugar to the egg yolk.

Add flavoring and set aside.

Beat egg whites until stiff, addling remaining sugar little by little.

Fold in egg whites in yolk mixture. Pour unto a lined baking pan.

Bake at 400 °F for 15 minutes. When baked, invert on a waxed paper.

Spread with jelly or any filling desired and roll.

Yield: 4 servings.