These long thin cookies resembles a cat's tongue that is why it is called lengua de gato. This is one of the popular pasalubong treats that you can buy is native delicacies stores like the stalls within the vicinity of Antipolo church or in Baguio city. But nowadays it is common in big supermarkets like SM hypermart, Robinson's Supermarket or Shopwise. Preparing this cookies is not as hard as you think. You just need a cake decorating tube or piping tube to form them in baking trays before putting it in the oven. Since it is very thin it will burn easily so better to watch it frequently.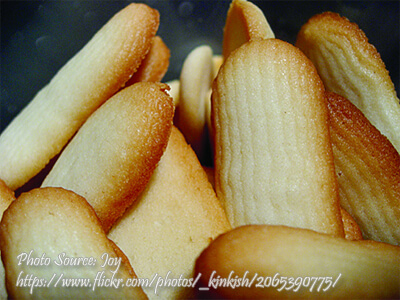 How to Make Lengua De Gato
Ingredients
1/2

cup

butter

1 1/3

cups

cake flour

2/3

cup

sugar

1/4

tsp

salt

1/4

cup

egg white

from 2 pcs eggs

1/2

tsp

vanilla
Instructions
How to make Lengua De Gato
Cream butter and sugar. Add egg white gradually then fold in flour with salt.

Add vanilla and stir mixture until smooth.

Use cake decorating tube to form mixture into long and narrow oblong shapes about 2 inches long.

Drop each onto slightly greased cookie sheet.

Bake in 375 °F oven 5 to 8 minutes or until light brown. Remove immediately and let cool.

Store in tightly covered jars.