Brazo de Milana is actually a variation of Brazo de Mercedes where the only difference are the fillings. In Brazo de Milana, the egg yolk filling is added with mashed boiled ube and butter.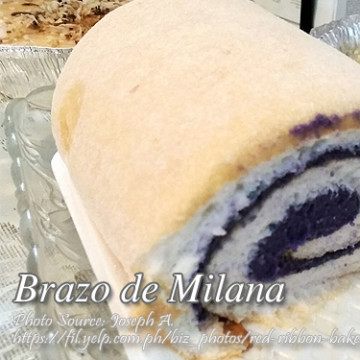 How to Make Brazo de Milana
Ingredients
1 1/2

cups

egg white

1/2

tsp

cream of tartar

1 1/2

cups

sugar

Ube Filling:

1 1/2

cups

sugar

1/2

cup

water

8 to 10

egg yolks

beaten

1/4

cup

softened butter

2

cups

mashed boiled ube
Instructions
How to make Brazo de Milana:
Preheat oven to 250 °F. Generously grease and line a jelly roll pan. Set aside.

In mixer, beat egg white and cream of tartar at high speed until soft peaks form.

Gradually add sugar while beating continuously until stiff.

Spread mixture evenly on prepared pan. Bake until set.

Prepare ube filling: Boil sugar and water until thread-like.

Beat egg yolk in mixer until light and fluffy.

Pour in hot syrup while beating continuously until thick.

Beat in mashed ube and softened butter.

If filling is too thick, add some milk. Simmer over medium fire until done.

To assemble: Sprinkle sheet of brown paper with confectioner's sugar.

Invert baked meringue on it. Peel off paper lining.

Spread ube filling. Roll up meringue to enclose filling.

Place seam-side down on serving tray or platter.