This is a basic white bread recipe which you can bake at home instead of buying them in bakeries or supermarkets. It is more economical if you have the patience of baking this bread. In this recipe, 7 to 8 cups of flour will yield about 3 loaves. If you want to make more than 3 loaves, just multiply the amount of ingredients of the recipe by your desired amount of loaves.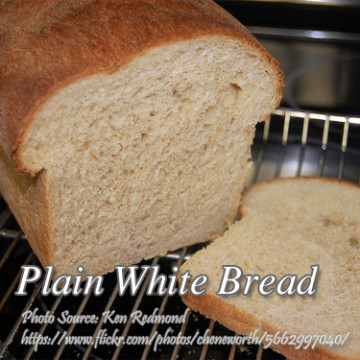 How to Make Basic White Bread
Ingredients
2

packages dry yeast

7-8

cups

white flour

3

tablespoons

sugar

2 1/2

teaspoons

salt

2 2/3

cups

lukewarm water

1 1/2

tablespoons

oil
Instructions
How to make Basic White Bread
Dissolve yeast and sugar in warm water.

Add oil and half the flour; beat until smooth.

Add salt and remaining flour, or enough to make stiff dough.

Knead until smooth and elastic (5 to 7 minutes).

Place in oiled bowl, cover and allow to rise in a warm place for from 1-1/2 to 2 hours.

Punch down and let rise again in 30 minutes in a warm place (optional).

Divide in thirds, mold unto loaves and place in greased loaf pans.

Cover and let rise in warm place about 1 hour, or until double in bulk.

Bake at 450 °F for first 15 minutes, then at 375  °F for 45 more minutes.

Remove from pans, brush with oil and cool on rack.

Yield: 3 loaves.