Banana cupcakes is a very good and very easy recipe that you can make. It is similar to banana bread where the main ingredients is ripe mashed bananas. There are many varieties of bananas you can use but the preferable variety is the lakatan or cavendish.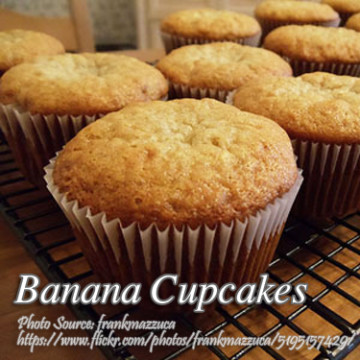 How to Make Banana Cupcakes
Ingredients
2 1/2

cups

all-purpose flour

1 1/2

teaspoon

baking soda

1/2

teaspoon

salt

2

cups

ripe mashed lakatan or cavendish bananas

about 6 pcs

1/2

cup

sour cream

3/4

cup

unsalted butter

softened

2

cups

light brown sugar

packed

1

teaspoon

vanilla extract

3

eggs

powdered sugar
Instructions
How to make banana cakes:
Preheat oven to 350 °F. Line 2-ounce  size muffin pans with paper cups.

In a bowl sift together flour, baking soda and salt. Set aside.

Combine bananas and sour cream in a separate bowl. Set aside.

In a bowl, cream butter, sugar and vanilla until light.

Add the eggs, one at a time, mixing well for 30 seconds before adding the next one.

At low speed alternately add sifted dry ingredients and banana mixture to the creamed butter.

Scoop batter into muffin pans three-fourths full, bake for about 25 minutes or until the top springs back when lightly touched. Cool. Dust top with powdered sugar.