Another version of meatless spaghetti using vegemeat and lots of grated cheese. This is definitely a healthy recipe because it contains no meat and a very simple recipe with few ingredients. Vegemeat is only available in vegetarian stores and you can seldom find it in the supermarkets.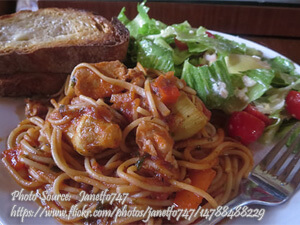 How to Cook Vegemeat Spaghetti
Ingredients
1/2

cup

butter

2

teaspoons

kalamansi zest

1

cup

grated cheese

1/3

cup

finely chopped onions

6

kalamansi halves

1/4

teaspoon

black pepper

3

tablespoons

kalamansi juice

2

garlic cloves

chopped

1

tablespoon

chopped kinchay

celery

1

box

8 ounces spaghetti

4

cups

vegemeat

sliced and lightly fried
Instructions
How to cook Vegemeat Spaghetti:
Heat 3 tablespoons butter in a pan. Saute onion and garlic until tender.

Add kalamansi juice, kinchay, kalamansi peel, pepper, bay leaf and 2 cups water; simmer until liquid is reduced to about 1 cup.

Remove bay leaf. Stir in vegemeat and heat thoroughly.

Add remaining butter; stir until melted.

Cook spaghetti in boiling salted water until tender yet firm, about 6 to 10 minutes; drain.

Pour sauce over spaghetti, sprinkle with cheese and serve with kalamansi halves or lemon wedges.

Yield: 6 to 8 servings.