Searching for a vegetarian chili con carne? then I think this recipe is for you. Instead of using ground meat on this recipe, we will be using ground gluten. But you can also substitute it with ground vegemeat made out of soy beans if you have gluten intolerance.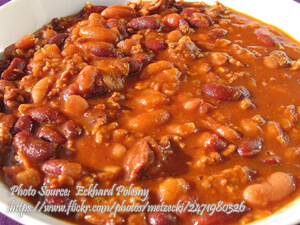 How to Cook Chili Con Gluten
Ingredients
1

cup

dried kidney beans

1/4

cup

chopped onions

1 1/2

cups

ground gluten

1 1/2

teaspoons

salt

1/2

cup

chopped tomatoes

4

cloves

garlic

1/3

teaspoon

pepper or chili powder

Soy sauce to taste
Instructions
How to make chili con gluten:
Boil beans in 3 cups water until cooked. Saute garlic till brown.

Add onions and tomatoes. Cook tomatoes very well .

Add gluten end let boil for 5 minutes. Add soy sauce and salt.

Add beans and cook for about 5 more minutes.

Add chili powder. Serve hot. Yield: 6 to 8 servings.