That's right, in the tremendous resource The Ultimate Vegetarian Recipe Book (that I'm offering to you)… all of the hard work and frustration is done FOR YOU!
You see, in this one resource alone, you will have a plethora of HEALTHY and DELICIOUS Vegetarian Recipes at your fingertips.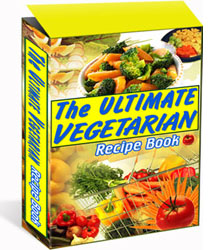 Here you will find over 234 pages jam-packed with mouthwatering, easy-to-prepare, healthy meals just waiting for you to try them out.
Picture everything from soups, to salads, to pies, to full dinners and beyond!
Just imagine how you will be able to impress your guests with your tremendous new cooking abilities and knowledge.
You no longer have to pull out your hair in frustration scouring the internet for "sketchy" recipes that take forever to find… it's all done FOR YOU in here.
You will be utterly surprised and amazed with what you get.
(Value: $47, For You: $0)
Get Your Copy Of The Ultimate Vegetarian Recipe Book
It's Jam-Packed With 234 Pages Of
Mouthwatering Recipes For YOU!
Just sign-up to our newsletter to get the eBook.
Please provide your email and hit submit button.