A delicious macaroni and pineapple tidbits salad added with grated cheese, fruit cocktail and chopped nuts. Perfect fr people who are craving for both a fruit salad and macaroni salad because they are already made as one. No need to make two kinds of salad.
COOKING AND HEALTH TIPS: Bone Problems? Eat Pineapple! – The manganese in pineapple helps prevent bone fractures and osteoporosis.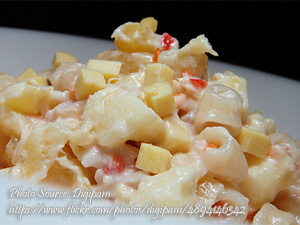 How to Make Pineapple-Macaroni Salad
Ingredients
1

small box salad macaroni

cooked as directed

2 1/2

cups

pineapple tidbits

2/3

cups

mayonnaise

1

cup

fruit cocktail

1 1/2

teaspoons

salt

1/4

cup

sweet pickle relish

1

teaspoon

pepper

1/4

cup

grated cheese

1/2

cup

chopped nuts

Red pepper slices
Instructions
How to make Pineapple-Macaroni Salad
Arrange red pepper slices at the bottom of the mold.

Combine the rest of the ingredients and transfer into the mold.

Chill. Unmold in a platter and garnish as desired.

Yield: 8 to 10 servings.