A very simple but delicious and healthy fruit salad with the combination of papaya, apples and fruit cocktail and of course, thick cream to make it more flavorful. Instead of eating ice cream all the time, I think this is a good substitute if you want to stay healthy.
COOKING AND HEALTH TIPS: Storing Apples – Refrigerated apples last up to 10 times longer than those left at room temperature. To prevent apples from speeding up the ripening process of other items in your produce drawer, store them in a plastic bag.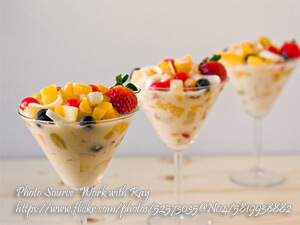 Papaya-Apple Salad
Ingredients
4

apples

peeled and diced

1

cup

thick cream

2

cups

pineapple

diced

1

can fruit cocktail

2

cups

papaya

peeled and diced

Sugar to taste
Instructions
How to make Papaya-Apple Salad
Combine all the ingredients.

Toss slightly with thick cream.

Add sugar to taste. Chill.

Garnish with sliced peaches.

Yield:    4 to 6 servings.