Kutsinta or cuchinta is a native delicacy or kakanin. Atchuete ot annatto cuchinta derives it name because the red coloring comes from the annatto seeds. But this is a traditional way of coloring the cuchinta. Food coloring is easier and cheaper so it is used specially on those made for selling.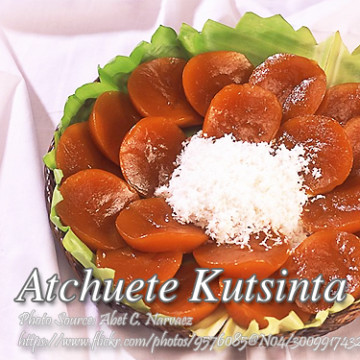 How to Make Atchuete Kutsinta (Annatto Cuchinta)
Ingredients
4

cups

all-purpose flour

4

cups

white sugar

7

cups

water

1

tablespoon

lye

lihia

1

tablespoon

atchuete

annatto seeds
Instructions
How to make Atchuete Kutsinta:
Soak atchuete in 1/3 cup water to extract color.

Mix flour, sugar, lye and the rest of water together. Stir until smooth.

Blend atchuete extract. Fill muffin cups 1/3 full.

Steam for from 15 to 20 minutes or until firm.

Let it cool and remove from molds. Serve with grated coconut.

Yield: 8 dozens.