This bread recipe is same as white bread but added with soy flour and wheat germ to make the bread high protein. Baking your own bread is more economical than buying from bakeshop and it is also better to bake your own so you can be sure that your bread is high quality. In buying cheaper bread don't expect that you can get the quality you want because those bakeshops have to earn a profit so they will use low quality ingredient to be competitive.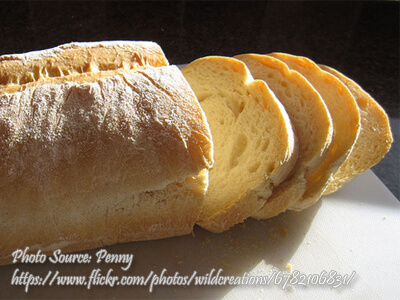 How to Make High Protein White Bread
Ingredients
1

package

2 1/4 tsp dry yeast

1

tablespoon

salt

1/2

cup

lukewarm water

1/2

cup

soy flour

2

cups

hot water

6

tablespoons

non-fat dry milk

2

tablespoons

oil

2

tablespoons

wheat germ

2

tablespoons

sugar

6

cups

white flour

or mixed whole wheat and white
Instructions
How to make High Protein White Bread:
Dissolve yeast in lukewarm water. Mix next four ingredients together and add to yeast mixture.

Add soy flour, dry milk and wheat germ to 3 cups of flour and mix well.

Mix dry mixture vigorously into first mixture and gradually add remaining flour to make a stiff dough.

Turn dough onto floured board and knead 10 minutes.

Place in oiled bowl, cover and let rise in a warm place until double in bulk (1 1/2 to 2 hours).

Punch down and let rise again about one hour. Divide into two parts. form into loaves.

Place in oiled loaf pans, and let rise until double (about 1 hour).

Bake at 375 °F for from 50 to 60 minutes. Yield: 2 loaves.