Espasol is a native delicacy made from glutinous rice flour, shredded coconut and coconut milk then rolled in toasted rice flour.  This delicacy comes in many shapes including thin shaped, elongated and tubular shape. It can also be cubed or round. It is commonly wrapped in paper or banana leaves. To make toasted glutinous rice flour, just put it in an empty wok then heat the wok and use a wooden spatula to mix the rice flour on the wok until it turns light brown.
Laguna and Bulacan are well known provinces who produce espasol and it is commonly seen in stores who sold native delicacies like bibingka, buko pie, cassava cake and other kinds of kakanin. When you visit these provinces riding a bus, it is often sold by vendors who goes inside the bus to sell their goods.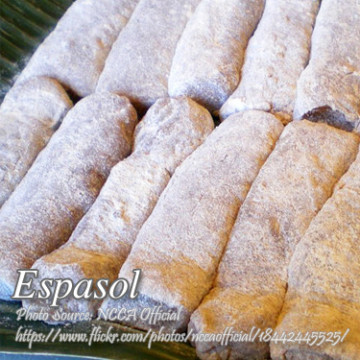 How to Make Espasol
Ingredients
1

cup

malagkit

glutinous rice

4

cups

rice flour

toasted until light brown

2

cups

sugar

1

cup

coconut milk

1 1/2

cups

toasted shredded coconut

Anise seeds
Instructions
How to make espasol:
Boil the malagkit. Place sugar, anise seeds and coconut milk in a saucepan; let boil until thick.

Add toasted shredded coconut and cook for 3 minutes.

Add boiled malagkit, stir and cook until thick.

Remove from fire and add 3 cups toasted rice flour.

Mix with a wooden spoon and pass through a cornmeal grinder.

Divide into 2 parts and roll (about 2 1/2-inch in diameter). using the rest of the rice flour for rolling.

Slice into 1/2-inch thick pieces. Yield: 30 pieces.