Ubod or heart of palm comes from the center of coconut trees trunks. So in order to get it you have to bring down a whole coconut tree to get the heart. Unlike banana heart that it grows out of the tree. Ubod is usually cooked to make fresh lumpia or some other vegetable dishes but this time it is made into pickled ubod.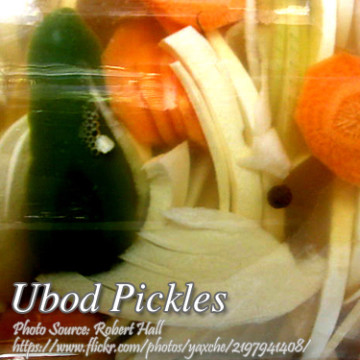 Ubod Pickles or Heart Of Palm Pickles
Ingredients
2

cup

coconut ubod

cubed

1

small carrot

cut into-flowerettes

1

small red bell pepper cubed

1

small green bell pepper cubed

native onion

finely chopped

course salt
Pickling Solution:
1

cup

vinegar

1

cup

water

1

cup

sugar

salt
Instructions
How to make Ubod Pickles:
Blanch ubod in boiling water for 10 minutes. Drain.

Mix together the carrots, peppers, onion and salt. Let stay for about 30 minutes.

Squeeze vegetables in a cheesecloth to remove juice. Combine squeezed vegetables with ubod.

In a separate saucepan, boil all pickling ingredients without stirring.

Pour hot pickling solution into ubod mixture.

Pack in clean jars. Cover and store for a few days before serving to allow vegetables to absorb the pickling solution and become crisp. Serves 8.